Hi all,
we are selling this awesome bundle of accounts that makes a lot of money, the more effort you put in, the more money you will earn. We already got $1700 in just about 16 months. (We could get a lot more if we had time)
Youtube: 62k subs
Instagram: 9k followers
Steam: 24 games Account value of over $500
Fiverr: Level one account, 5 star ratings, over $600 dollars profit
Indieboost: Very well rated with many compliments, over $900 dollars profit
Keymailer: Account with a lot of keys to redeem, over $100 games values to redeem. (You can get hundreds of awesome games for free) (You can promote games as well for money)
Why buy QG GAMER company:
If you buy this bundle you will be many steps ahead due all the accountes are already trusted accounts, rated accounts, we have organic traffic already. Fiverr makes 5k impressions per day of our gig for example.
We made $1700 in 16 months with very little effort. If you have time, you can profit much more. You can offer $200 to play 300 minutes for example. We dont have time to play 300 minutes straight you know… Our offers most of the time was 15min… 30min…
We didnt share our work on the internet. Im sure if you share on forums, discord, groups, you will get a lot of traffic.
Very nice way to earn money and play games. We love games and loved to do this. We meet great people and great games that we would never know existed.
Here is an FAQ video that will show all the information you need. Analytics screens, account screens, and etc. I recommend to see in 1.75x or 2x. Due my english is a little bit slow haha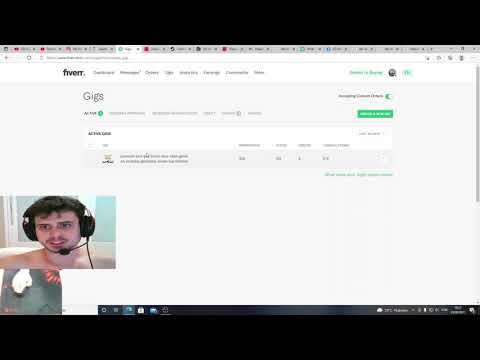 *Sometimes I repeat a few sentences, but it was to edit later. I ended up not editing it.
Why we are selling the company:
Unfortunatelly we dont have time to give to the channel, we 3 are married, and we 3 have children, then the business became a bit unfeasible
Please let me know if you have any question!
Cheers!